Ken Forrester Champions Rhone Blends and Chenin Blanc with latest Competition Results
Ken Forrester Wines, Chenin Blanc superstar, celebrates a trio of awards at the National Wine Challenge/ Top 100 SA Wines recently announced in Cape Town. The Grand Cru award for best in class, a Double Platinum medal and a Double Gold Medal were awarded for the two Icon wines in the Ken Forrester stable, The Gypsy 2015 and the FMC 2019, respectively.
The National Wine Challenge/ Top 100 SA Wines, the premier fine-wine-only competition, aims to produce a list of SA's top 100 wines. The judging panel is made up of local wine experts, who taste each of the entries over three days. The Top 100 wines are then chosen, and from that list, the highest scorers are re-tasted for Double Gold, Double Platinum and Grand Cru awards.
When people think of Ken Forrester, Chenin Blanc certainly comes to mind, but the team also has a love affair with Rhône varietals. The Gypsy 2015 is a blend of Grenache, Syrah and Mourvèdre, harvested from low-yielding vineyards on selected sites. The Grenache portion comes from a 60-year old vineyard planted on decomposed granite soils, 450m above sea level with yields as low as 2t/ha.
If this wine could tell her own fortune, she probably would have predicted that the Grand Cru National Champion Best in Class and a Double Platinum Award were in her future, but for her creators at Ken Forrester, they are overjoyed at the news! "The Gypsy 2015 is a pure expression of classic Rhône varietals. She is expectedly free-spirited and intense, just like her namesake. 2015 was a fantastic vintage in the Cape, and this wine is only going to get more interesting", says Ken Forrester.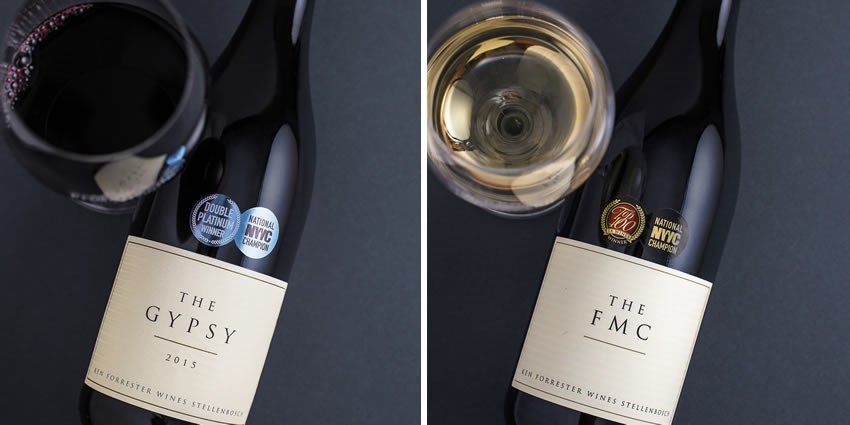 The FMC 2019, made from old bush vines on the Stellenbosch property planted in 1974, scooped a well-deserved Double Gold Medal. The FMC is the pinnacle of what Ken Forrester considers to be the finest expression of the grapes of this varietal. "2020 marks 20 golden years of this incredible wine. The FMC 2019 is a celebration of Chenin Blanc, and is a result of our passion and commitment to this varietal. The FMC is an icon Chenin, and our challenge to the world!", says Forrester, also known as Mr. Chenin.
20 golden years of FMC will be celebrated at various events and tastings towards the end of this year.
Both of these limited icon wines are available for purchase at the Ken Forrester wine lounge, or via their online store on www.kenforresterwines.com. Cheers.