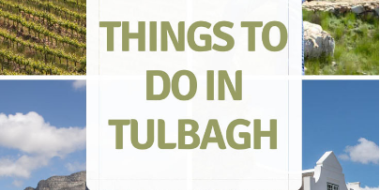 Jagged mountains and gnarled old oaks, the curve of a Cape Dutch gable, long rows of vineyards or fruit trees, a farm dam – these are the memories you'll bring home from Tulbagh. In the Cape Winelands just a 90-minute drive from Cape Town, it's a place to discover history and magnificent scenery, to explore things to do in Tulbagh.
Tulbagh lies in a bowl surrounded by the Witzenberg mountains to the east, Winterhoek mountains to the north – often snow-capped in winter – and the Obiqua mountains to the west. The town dates back to the early 1700s and is the fourth oldest in South Africa after Cape Town, Stellenbosch and Swellendam. Small wonder, then, that there are so many old buildings to admire. In fact, Church Street today has more Cape Dutch, Edwardian and Victorian provincial heritage sites than any other street in the country.
But it would be a mistake to think Tulbagh is all about the past – there's a host of things to do in the area for wine and beer fans, nature lovers, even adrenalin junkies. Or you can just kick back and enjoy the peace and quiet of the countryside.