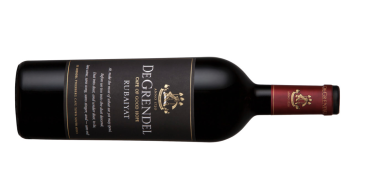 De Grendel Rubaiyat is named for the collection of quatrains from Omar Khayyam, the 11th Century Persian poet and astronomer. A fine red blend, using grape varieties originally from Bordeaux, which the late Sir David Graaff requested founding winemaker Charles Hopkins to make as an extension of this fine Estate's wine range. And what a success it has been.
2015 is currently regarded as the finest vintage of the century and as part of the worst drought in living memory and the weather leading up to the harvest still produced excellent concentrated fruit and high colour berries.
The grapes for the blend are 70% Cabernet Sauvignon, 25% Petit Verdot, 4% Merlot and 1% Cabernet Franc. The Cabernet Sauvignon comes from vineyards in Firgrove which are 6 km from False Bay, source of cooling summer breezes which allow for slower ripening, thus greater flavour. The remaining grapes grow on De Grendel, itself only 7 km from Table Bay and the cold Benguela current.