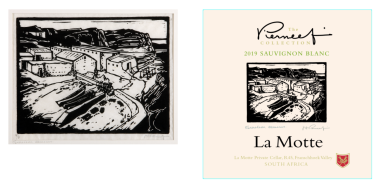 If it is my choice, I'll take the fourth bottle in the six pack of the La Motte Pierneef Sauvignon Blanc 2019. Even though I'm not a great SB fan, this version is polished in a kind of French manner. But the reason for choosing No 4 in the box is personal: on the label is a stamp-sized picture of the Old Harbour of Hermanus, my town of origin.
What's more, the pretty little image of the cracked old fishing haven (where my father many decades ago brought in a kabeljou that needed two men to carry) is a lino-cut print by J.H. Pierneef.
Jacob Hendrik Pierneef (1886-1957) was a one-of-a-kind artist who lyrically documented the spread of the South African landscape in a unique style – and is now one of the most sought-after names for art collectors.