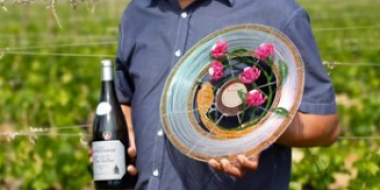 De Wetshof Estate in Robertson is the first recipient of the WWF Conservation Pioneer Award, one of the accolades under the prestigious Great Wine Capitals Best of Wine Tourism and Wine Tourism Ambassador Awards. These awards, for 2022, were announced this week at Creation Winery in the Hemel-en-Aarde Valley.
Sponsored by the World Wild Fund for Nature (WWF), the Conservation Pioneer Award intends to emphasise the critical role of eco- and social sustainability in the development and execution of a new generation of relevant and appealing competitive travel offerings.
De Wetshof Estate, situated in the Robertson Wine Valley some 160km east of Cape Town, is not only a world-famous wine farm, but has over three generations of ownership under the De Wet family been a leader of conservation and sustainability in the South African wine industry. The estate is now one of the 50 Cape wineries who are members of the WWF Conservation Champions initiative overseen by the WWF to recognise wine farms implementing exemplary programmes committed to conserving the flora and fauna on and surrounding their wine farms, as well as for their active involvement in producing wines to credentials underscoring sustainability in general.