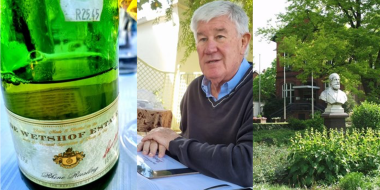 De Wetshof might be known as being South Africa's pioneering Chardonnay producer, but this Robertson wine farm was also one of the first Cape farms to make Rhine Riesling, a wine that attracted Superior Status for De Wetshof from the SA Wine and Spirits Board. The fact that De Wetshof helped pioneer this iconic German variety at the Cape should come as no surprise considering Danie de Wet's wine background, which included studying viticulture and winemaking at the prestigious Geisenheim Institute in the south east part of Germany on the right back of the famous Rhein River.
Danie's time studying here from 1969 to 1971 played a profound role in influencing him towards introducing grape cultivars that were not yet established in the Cape in the 1970s and early 1980s, including Rhine Riesling, Sauvignon Blanc and – of course – Chardonnay.
His German alma mater recently served-up a bit of nostalgia when it invited Danie to attend an on-line tasting of Riesling wines made by him and other Geisenheim students from around the world.
"This year's event was actually to commemorate the tasting of Rieslings from former Geisenheim students held in February 2001," says Danie.