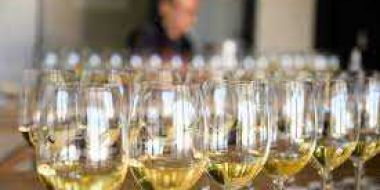 The inaugural Viognier Challenge was held at Vrede and Lust on Tuesday March 16th 2021. There were 24 entries of single variety wines, with no limitation made on whether they were oaked or not.
The wines were judged blind, using the international 100 point system. The 5-person panel consisted of Christine Rudman (Chairperson); Michael Bampfield-Duggan; Greg Mutambe; Samarie Smith and Malu Lambert.
They were given no indication of origin or vintage, or whether then wines were oaked. No discussion was permitted during the tasting, with a general report of overall impressions taking place afterwards. The tasting was audited by Cecil Kilpin & Company.
The high number of gold medals awarded (75 %) reflect the quality of the entries.