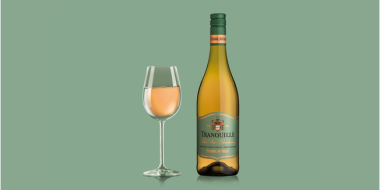 Chardonnay and Pinot Noir are the two noble grapes grown by the von Arnim family on their Haute Cabrière Wine Estate up on the Franschhoek Pass above the quaint country town which is a wine Appellation of its own.
These are the grapes from which the great wines of Champagne and Burgundy are made. Since the mid 1980s, the family has specialized in Cap Classique wines and a variety of innovative still wines released regularly by Takuan von Arnim, the Cellarmaster.
The Haute Cabrière Pierre Jourdan Tranquille is very similar in nature to the base wine for the Cap Classique wines produced by Takuan and his team in the cellar. A blend of Chardonnay and Pinot Noir, the wine is bottled in a Burgundy shaped bottle, very appropriate, and closed with a screw cap.