Open for business and ready to pour.

Characterised by towering oaks, rolling vineyards, Cape Dutch architecture and French flair, Franschhoek dates back to 1688, when 150 Huguenots arrived in the region, armed with winemaking skills (and a throng of other attributes that contributed irrevocably to the course of our country's history).
Heading into the valley, first-time visitors are often struck by how deep its Gallic roots run: from the French-named wineries, hotels and restaurants to the Parisian-style café society lining the eminently walkable high street to the classic, elegant wines produced here.
According to Vignerons de Franschhoek, there are 45 wineries in the region, ranging from regal and rustic to big-name and boutique, one as beautiful as the next, all of which produce astonishingly good wines. For the purposes of this article, we (sadly) couldn't list them all. So we've chosen our top 10. We'd love to hear which are your favourites in the comments below
Boschendal
The current gold standard when it comes to wine-farm destinations, Boschendal ticks all the boxes, and exquisitely so! Stylish accommodation, a welcoming werf where night markets, puppet shows and other activities are hosted, a beautifully merchandised farm shop, and a kids' club that would give some of the swankiest resorts in Mauritius a run for their money.
Food Visit The Werf for a casual fine-dining farm-to-table feast with floor-to-ceiling vistas of the massive vegetable and herb garden. The Deli serves sandwiches and burgers; or book a scenic picnic in the Rhône rose garden.
Wine The Cellar Door, under the oaks, is open on weekends and public holidays for wine tasting. Order a charcuterie board to accompany your wine, or try a choc-and-wine pairing…
Shop The newly renovated Farm Shop and Butchery is packed to the rafters with freshly baked goods, condiments and preserves, wholesome readymade meals and a curated selection of bespoke homeware.
Stay There are various luxury accommodation offerings at Boschendal, including self-catering cottages and a breathtaking mountain villa.
While you're there Outdoor enthusiasts can enjoy one of five mountain-biking trails, farm hikes or book a horse-riding experience. Kids between 5 and 14 years will want to spend every waking moment at the Tree House, an immersive and contained playground and pump track that's supervised by a passionate team of guides.
Mullineux & Leeu Family Wines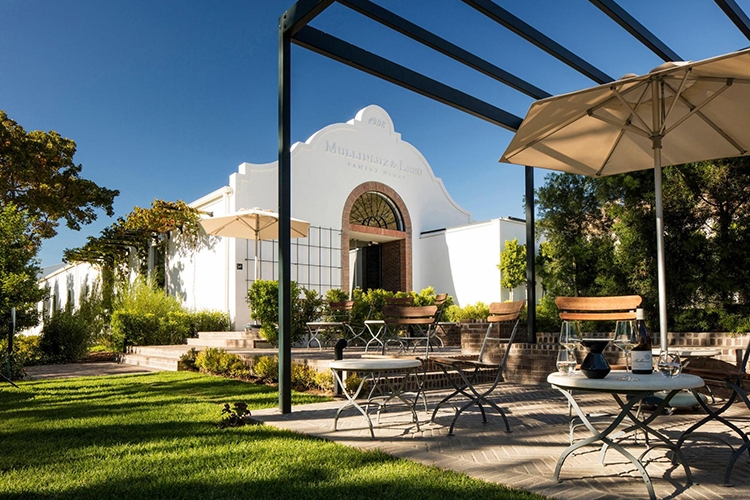 On the slopes of the Dassenberg mountains, Leeu Estates is a 68-hectare wine farm home to Mullineux & Leeu Family Wines. Owned by Indian entrepreneur Analjit Singh, this estate is one of three farms he acquired after a serendipitous visit to Franschhoek in 2010, during which he "instantly and instinctively knew this was it!". We can see why…
Food Le chêne, overseen by chef Darren Badenhorst, serves a varied and proudly South African menu underpinned by rigorous French technique. The contemporary interiors are pared-back and sophisticated, and there's a deck with heavenly views of the garden, vineyard and mountain.
New to the estate is La Petite Colombe, which moved from its corner at Le Quartier Français. Here, diners can expect the same level of exemplary fine-dining finesse as its Constantia counterpart, La Colombe. For those seeking a light meal and drinks, head to the bar.
Wine Designed by acclaimed Spanish Architect, Tomeu Esteva, the estate's Wine Studio is a suitably beautiful space in which to appreciate the estate's fine wines, produced by Chris & Andrea Mullineux. The knowledgeable staff will guide you through tastings of both the Swartland and Franschhoek wineries.
Stay Leeu Estates encompasses various luxury accommodation options, including six classically styled rooms within the immaculately restored Manor House, and cottages around the estate with sublime views of the surrounding vineyards, gardens and fynbos beyond.
While you're there Go for a scenic stroll through the Bokkie Garden, book a luxury treatment at Leeu Spa, where you'll find a deliciously inviting 15-metre-long pool and heated plunge pool, or visit the newly established Everard Read Gallery.
Anthonij Rupert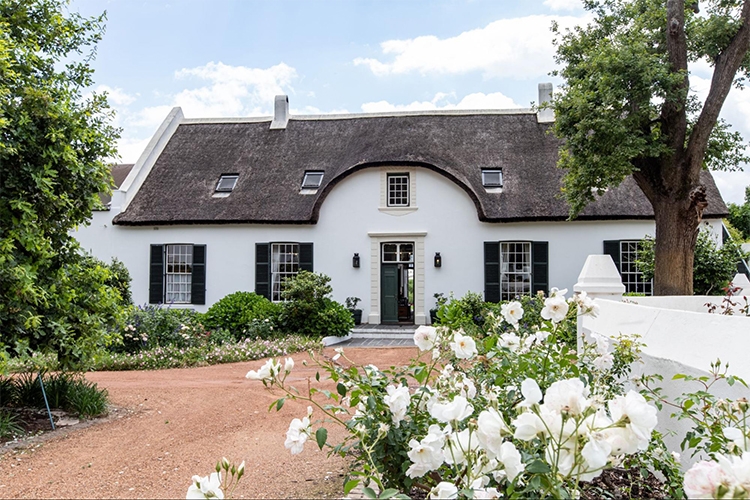 Tucked beneath the Groot Drakenstein Mountains, the illustrious L'Ormarins Estate is where Anthonij Rupert Wines produces award-winning vintages in state-of-the-art facilities. And, although wine takes centre stage, it's the artful mix of heritage architecture, cutting-edge wine-making facilities, spectacular scenery, delicious cuisine, and a slew of other pleasurable attractions that make this a one-stop Winelands destination suited to any occasion.
Food Under the olives trees, with views of Franschhoek's vineyards and mountains, the Terra del Capo tasting room does an Italian-style antipasti experience that is simply divine: seasonally inspired dishes accompanied by a selection of world-class wines.
Wine There is a choice of three wine tasting experiences, depending on your wallet and preference: either Terra del Capo tasting room or in the stylish Anthonij Rupert Tasting Room.
While you're there Pop into the Franschhoek Motor Museum for a sighting of 80 vintage cars, or enjoy a tram ride around the estate. The Estate Package includes lunch, wine, a tram ride and a museum visit – all for R650. There's also a decadent high tea experience.
La Motte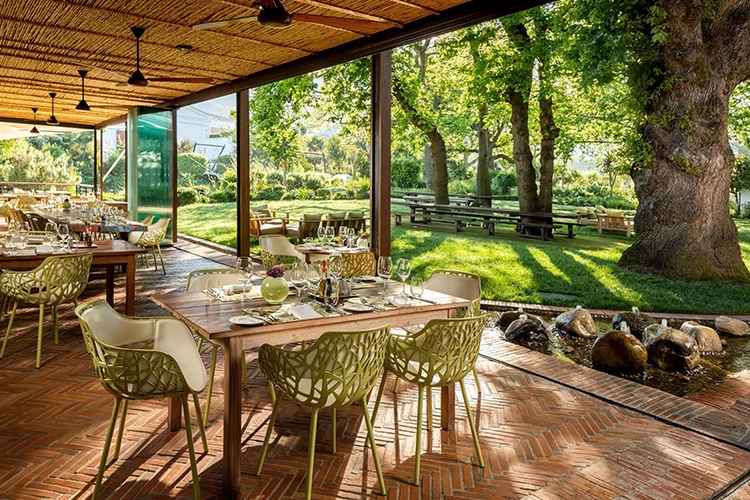 Situated under the shade of majestic oak trees, this esteemed estate is home to a famed restaurant, a wonderful farm shop, tasting room, estate museum and an array of internationally recognised fine wine.
Food Named after South African landscape artist Jacob Hendrik Pierneef, Pierneef à La Motte restaurant offers a similarly creative streak, with chef Eric Bulpitt (former head chef of Faber at Avondale) at the helm of this fine-dining establishment.
Wine Renowned for their quality and elegance, from the aperitif-style sauvignon blanc and popular Millennium to the classic chardonnay, syrah and cabernet sauvignon, La Motte wines are available to taste in the estate's tasting room.
Shop Pop into the farm shop for delicious artisanal bread and other take-home baked treats.
While you're there Take in some history in the La Motte Museum or do a scenic hike through the surrounding property.
Eikehof Wine Estate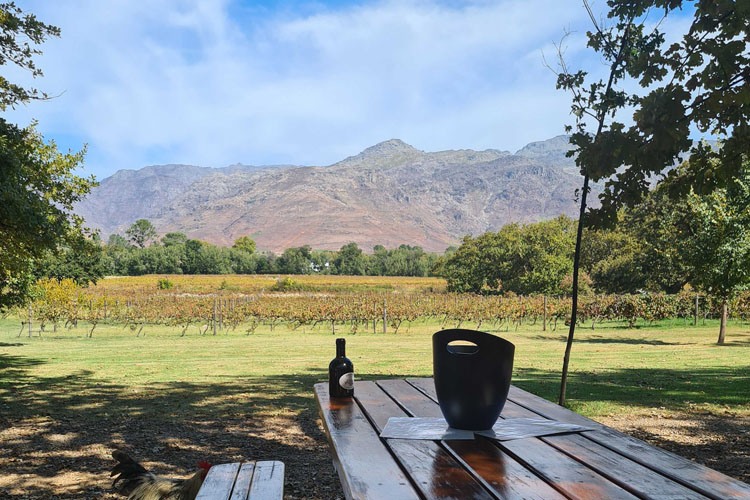 Surrounded by a forest of lush oaks, this family-owned winery dates back to 1903, and is still run by the passionate Malherbe family who gave it its name (eike means oak in Afrikaans). A hidden gem, the estate is perfect for a relaxed day with family, friends and good wine.
Food Enjoy a farm-fresh platter or an alfresco picnic on the lawns, overlooking vineyards and towering Drakenstein Mountain beyond.
Wine As a warm welcome when entering the tasting centre, guests are invited to enjoy a complimentary tasting of the estate's rosé. Should you wish to do a regular tasting, you'll be guided by a knowledgeable and passionate winemaker.
Good to know The Stable under the old oak trees is an ideal venue for special occasions.
La Petite Ferme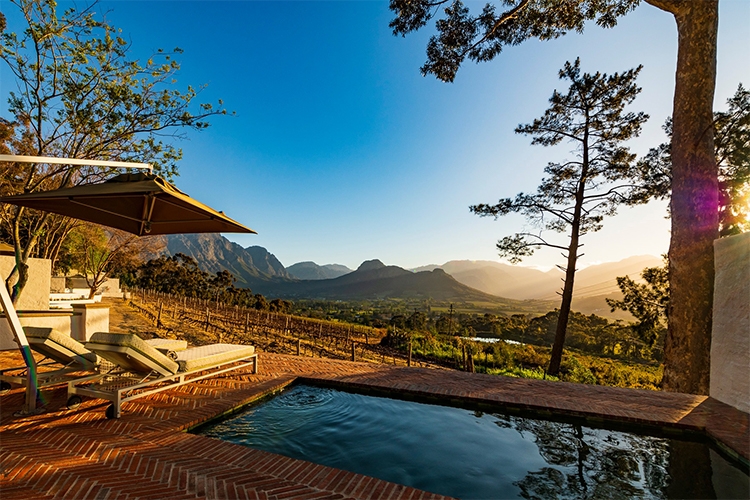 With some of the best panoramas of the valley and surrounding mountains, La Petite Ferme has always had a decidedly well-heeled (and far-flung) reputation, not least for the superb collection of small-batch wines produced on the property, but also for the one-and-all appeal of its valley-facing front lawn.
Food The seasonal menu at the view-drenched restaurant offers an array of fresh, prettily plated starters, mains and desserts prepared by head chef Kyle Norris and his team.
Wine Despite being a comparatively small winery, LPF produces some of the most sought-after wines in the country, caringly produced by winemaker Wikus Pretorius who comes with barrelfuls of experience from working in the wine regions of France, California and Australia. Enjoy a selection of exclusive estate wines, either in the tasting room or in the garden.
Stay There are nine individually decorated rooms – five recently refurbished stylish Vineyard Suites, each with their own private pool and log-burning fireplace, overlooking the valley, and four Manor House Rooms that open onto a shared pool.
While you're there Enjoy a leisurely walk, strenuous hike, or go mountain-biking on one of the estate's fleet of bicycles. Alternatively, the front lawn is the ideal place to linger longer with a bottle of wine.
Haute Cabrière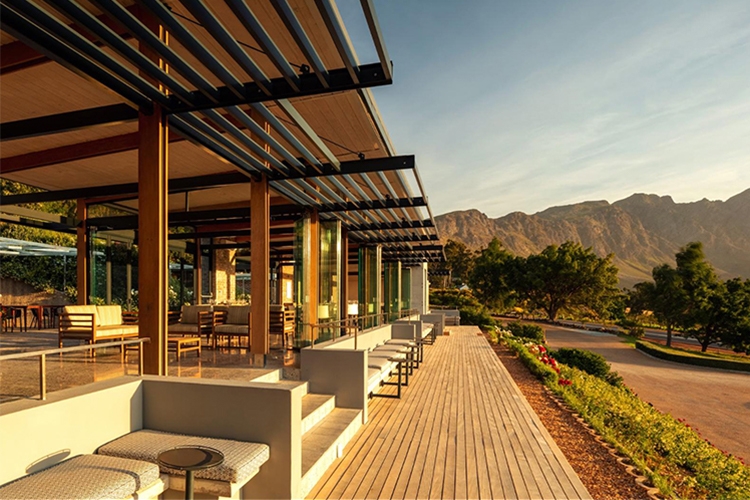 Owned by the Von Arnim family for generations, Haute Cabrière lies on the slopes of the Franschhoek Mountains and boasts exceptional views of the undulating valley beyond.
Food The restaurant's terrace seating is a drawcard, particularly in times of Covid, when you can push back the glass doors and let the views (and ventilation) in. The menu, created by chef Nic van Wyk and his team, is a selection of à la carte dishes and shareable tapas. The bakery and deli is a must-visit for some of the best croissants this side of the Champs-Elysées. Stock up on sourdough, pastéis de natas and other ambrosial treats, as well as pantry staples, wine accessories and gifts.
Wine Housed in a stone cellar built into the side of a mountain with views into the underground barrel maturation room, the tasting room is where the fun happens. Don't forget to stock up on some quality bottles before you head home!
While you're there Stroll around the grounds before settling down on the sunkissed deck with a pre-lunch glass of CC.
Mont Rochelle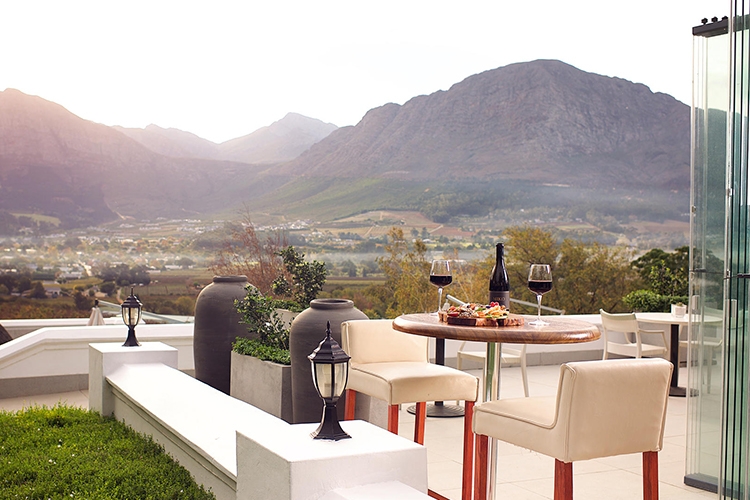 Overlooking rolling meadows and vineyards that stretch out towards the distant mountains, this illustrious Richard Branson-owned estate offers visitors a serene spot in which to enjoy good food, scenic picnics and a wonderful selection of homegrown wines.
Food At Miko, Polish-born executive head chef, Arek Witaszek, concocts a selection of delectable breakfast, lunch and dinner options made with locally sourced, seasonal ingredients. Those seeking a more relaxed ambience will love the estate's sister restaurant, The Country Kitchen, while the scenic picnics are a must for an alfresco dining experience.
Wine The magnificent 40-hectare estate makes superb award-winning wine, whatever your preference. Visitors can sip away at the estate's tasting lounge or enjoy a wine-paired meal.
Stay The hotel at Mont Rochelle has 22 stylish rooms, each with exposed-beam ceilings and oversized floor-to-ceiling windows offering killer views of the mountainous valley beyond.
Maison Wine Estate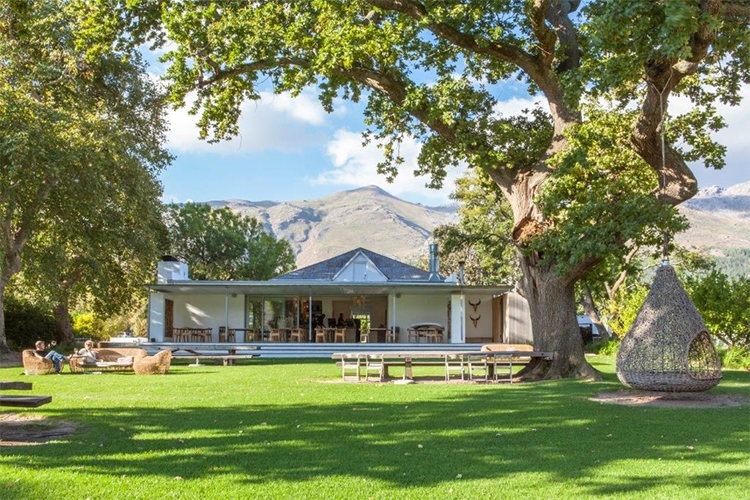 Derived from the French word meaning "house", Maison epitomises warm, Winelands hospitality, and celebrates slow, relaxed living. Set against the Franschhoek mountains, Maison's pitch-perfect contemporary design creates the ideal canvas to enjoy an exquisite meal fuelled by top-notch wine.
Food Occupying a vineyard- and mountain-facing space next to an orange orchard, Chefs Warehouse at Maison is headed by chef David Schneider (a longtime Chefs Warehouse alumnus). As the other wildly popular restaurants in the Chefs Warehouse group, the emphasis is on superb (and award-winning) "global tapas" accompanied by excellent wines in sophisticated surroundings.
Wine Experience a curated range of award-winning wines in the picturesque tasting room.
Stay Owners Kim Smith and Chris Weylandt have converted the original 1796 dwelling into a contemporary farmhouse, available to rent on exclusive-use or a per-room basis. Beautifully decorated, the villa has four en-suite bedrooms, and a separate suite for two annexed to the old stable block.
Shop Stock up on take-home treats, farm-fresh produce and estate wines from the farm deli.
Grande Provence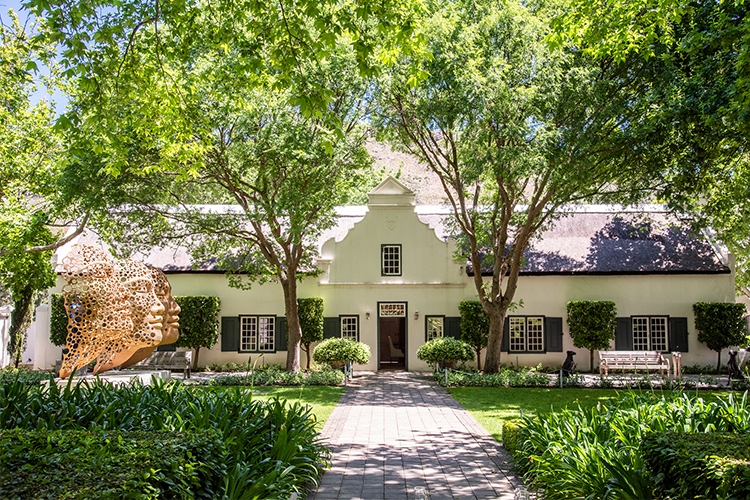 One of the most historic estates in the valley, Grande Provence is reminiscent of a French country escape, with a slice of homespun comfort thrown in. Known for its sweeping vineyards, accolade-accruing restaurant and wonderful wine-tasting facilities, the estate is a veritable hole in one, offering luxe lodgings, top-drawer wines, a gallery and a five-minute walk into the town centre.
Food Open on weekends only, the restaurant serves traditional South African cuisine with a modern twist, available à la carte, or as a three-course set menu, with or without wine. Guests might also enjoy a country picnic, before stocking up on take-home treats at the deli.
Wine Leading off the restaurant is the contemporary wine-tasting area with a cosy indoor fireplace, inviting guests to savour various of the estate's award-winning wines.
Stay With five individually decorated rooms, The Owner's Cottage is a stylish and intimate space that accommodates 10 people, while the La Provençale Villa sleeps four across two bedrooms. Complete with a pool, spacious lounge, dining room, garden and daily housekeeping, both are available to rent as an exclusive-use guesthouse, or on a per-room basis.
While you're there Tour the on-site gallery and sculpture garden, which showcase some of South Africa's finest and emerging artists.