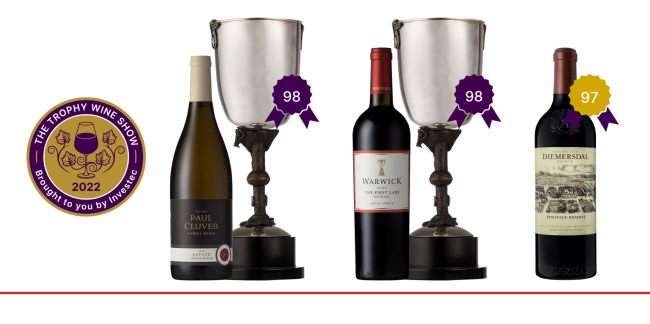 The Trophy Wine Show Results 2022
The 2022 results of The Trophy Wine Show brought to you by Investec have just been announced. The Trophy Wine Show is South Africa's premier wine competition, identifying the very best Cape wines, recognising the achievements of the country's winemakers, and honouring excellence in the wine industry. 673 wines were entered into this competition.
We are so excited to share the following awards the Meridian producers have secured; Paul Clüver's Estate Chardonnay 2020 was awarded The Investec Trophy for Best White Wine of the year, in addition to that clinching the Miele trophy for Best Chardonnay with a score of 98. The Trophy for Best Pinotage was awarded to Warwick's The First Lady Pinotage 2020 with a score of 98 and Diemersdal's Pinotage Reserve 2020 was awarded gold with a score of 97.
Congratulations Paul Clüver Wines, Warwick Wines and Diemersdal Wine Estate!